Description
Green Crack is a strain you just have to smoke. The thrilling Green Crack will turn the laziest goof-off into a powerful battery with its energetic effect and extraordinary mango aroma. Whether you need a smoke after a rough day, just want to take a puff or if you want to turn the daily grind into a bliss: Green Crack is what you're looking for.
PURE CANNABIS SEEDS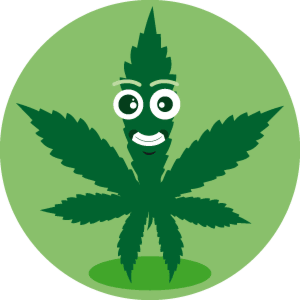 Don't be fooled by it's name, because Green Crack is pure marijuana. Its name insinuates a negative image of cannabis, therefore some people call it Green Crack Kush. Only a few strains are equal to its energy and focus. Green Crack has a sweet citrus flavor combined with earthy undertones. That makes Green Crack weed perfect daytime medication for patients who suffer from fatigue, stress, and depression.
MENTAL BUZZ WITH GREEN CRACK
Green Crack is a mix of original Chem Dawg F3 and our medijuana strain which gives a very cerebral experience, coupled with a strong heavy-bodied feeling. Chem Dawg tends to be very potent with good THC standards. Our medijuana pumps it up to its high level. Green Crack gives a great mental buzz. So be warned: once you try it, you can't stop smoking.
GREEN CRACK FROM AMSTERDAM
Our Green Crack entered the market in 2010. The experienced growers from Amsterdam Marijana Seeds (AMS) received Chem Dawg seeds from the world-famous breeder Mota Rebel. In Amsterdam, these seeds were mixed with our medijuana. Green Crack seeds from AMS grow into a strong plant with compact buds, giving you a high harvest.
FAMOUS KUSH WORLDWIDE
This strain is a true legend, don't miss this opportunity to get your hands on these 100% feminized Green Crack seeds at AMS. Why should you buy them? First of all the energy; you feel like a dynamo after smoking it. The taste is definitely one to remember. Green Crack strains grow quite tall, the yield is remarkable and its buds smell like skunk mango's.
GREEN CRACK DELIVERED WORLD WIDE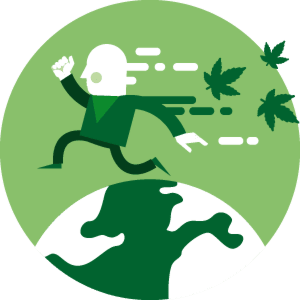 Amsterdam Marijuana Seeds ships her products worldwide. No matter where your doorstep is, we guarantee you will receive your beloved Green Crack. Your order will be packed very discretely. Weed seeds, such as feminized seeds, are legal in most countries, but yielding buds isn't. Therefore our packages look just like regular mail. So don't worry, we agree that it's nobody's business what you are growing in your backyard.
ABOVE AVERAGE MARIJUANA STRAIN
Other then your backyard, This strain is perfect to smoke indoors as well. The strain is usually ready to harvest in 7 to 9 weeks. The longer you wait, the better the harvest will be.Chopping buds early can give your Green Cannabis a speedy effect. This strain gives an above-average high yield. Outdoors you can harvest up to 600 grams (21.2 ounces) per square meter.
HOW TO GROW GREEN CRACK
Growing a Green Crack strain is quite easy. Even if you are just experimenting with growing marijuana, you can do it. Even better: anyone can do it! You can have a successful crop of fruity Green  Need advice? Check out our Marijuana Grow Guide. By following the directions in this pamphlet, growing your own cannabis strains turns out to be a piece of cake.
THE LEGEND OF SNOOP DOG
Did you know this strain was named by the all-known rapper Snoop Dog? The strain was originally called "Crush". But Snoop thought this marijuana strain fitted better, because of the need to keep taking hits of the bud. It's easy to understand why it's called crack, once you have experienced the energetic and bouncy feeling this strain's high provides.
AMS: MORE THAN 100 QUALITY SEEDS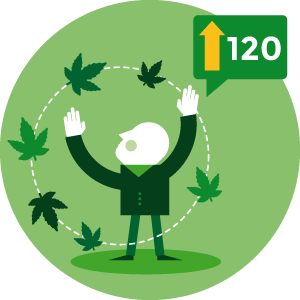 Amsterdam Marijuana Seeds offers a variety of high-quality weed seeds, other than Green  Kush, at affordable prices. AMS is a seed bank from the Dutch weed capital Amsterdam that exists over 15 years. We have a great experience with marijuana seeds, which we define and select with Dutch top breeders. With Amsterdam Marijuana Seeds you make sure you will get nothing but the best cannabis seeds online.
GOAL OF AMS: SATISFIED CUSTOMERS
As a known supplier of marijuana products, 420shop wants to help you with expertise and enthusiasm. We are here to answer questions and to give you good advice, no matter what your level of expertise is. We find it important to make our customers satisfied. And we are doing pretty well, as you can read about us on the independent review website Trustpilot.
QUESTIONS ABOUT GREEN CRACK? ASK!
Do you have questions about our famous Green ? Or do you need advice for growing them? Don't hesitate, read our Grow Guide or just ask. Our customer support team is available to help you out anytime. You're also welcome to share your ideas about our online seed shop. Send an email to top420shop1@gmail.com or fill out our contact form and we will contact you within one day.
FIND THE MARIJUANA SEEDS YOU WANT
Do you want to try out Green cannabis strain or other high-quality weed seeds? And do you already know what your wishes are in growing, smoking or harvesting? On our website, you find a marijuana seeds table which shows all our strains and their specifications. With this table, it's easy to choose a plant which matches with your wishes and experience.
ORDER GREEN CRACK NOW AT 420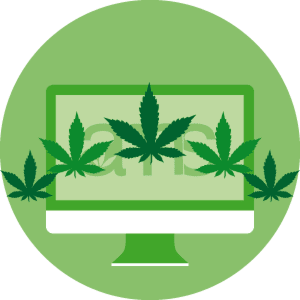 Do you want to try out the most energetic marijuana there is? Order your Green  marijuana now online at 420. Did you know you can always profit from one of our special offers? Subscribe to our newsletter, so you can enjoy special discounts up to 50% on selected weed seeds every week.
GROW THE BEST GREEN MARIJUANA
Green cannabis is an amazing strain to grow, because of it's high yield, special flavor, and the dazzling bliss after smoking. To grow an even better plant, you can use one of our fertilizers. It can increase your harvest by 30%. Order your Green Crack online at AMS en be amazed by what you can make out of it.
POPULAR AT TOP420SHOP
In our webshop we've got more than 120 kinds of marijuana seeds. Our classic White Widow is very popular, just like: